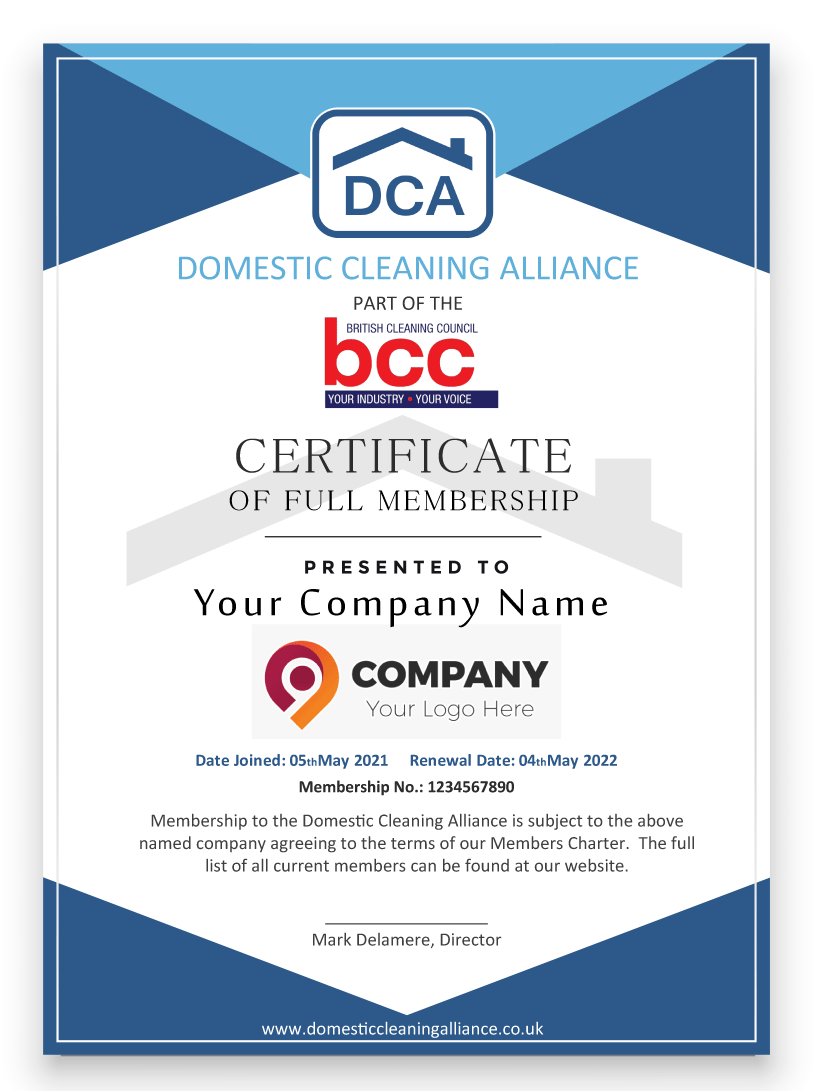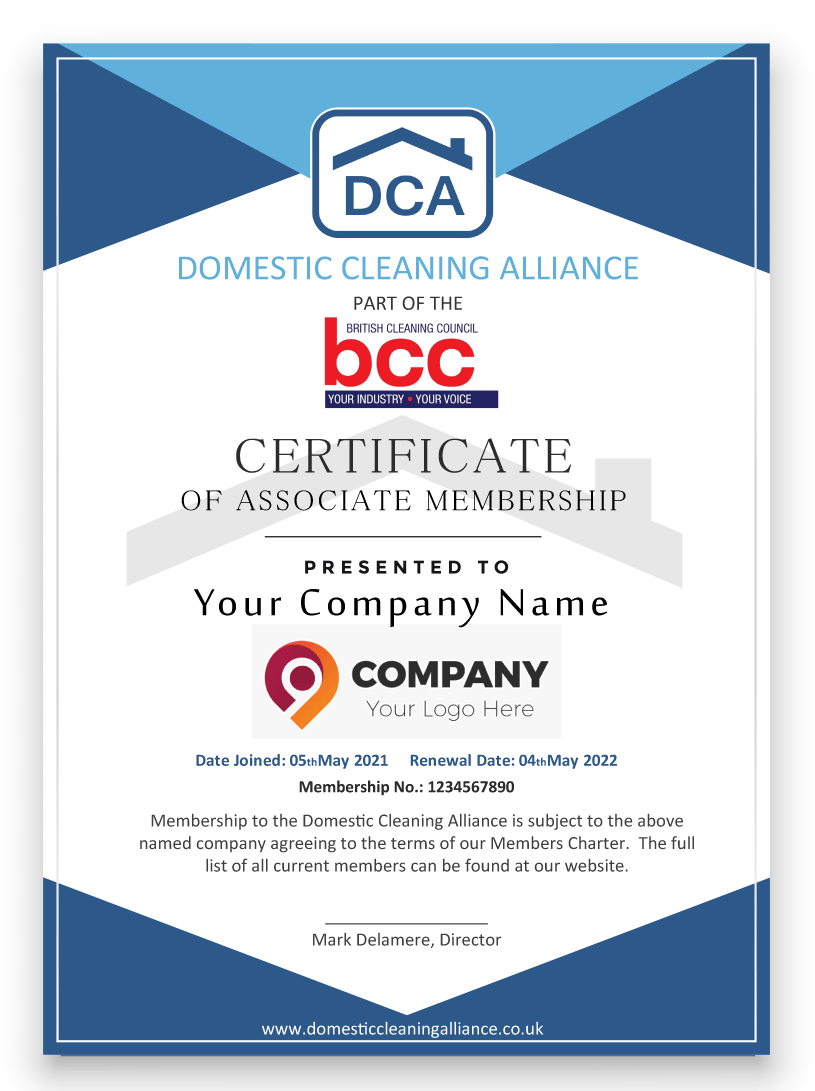 The DCA is supported by it's members – people who provide cleaning services.
No matter how long you've been trading, or how many staff or clients you have, if you are the owner of a UK cleaning company, providing domestic cleaning as part or all of the services you offer, you can apply for membership.
As a member of the Domestic Cleaning Alliance, your company name will be listed on our website so that your customers can see that yours is a legitimate, tax-paying, insured organisation.
There is currently no legal obligation for a domestic cleaning company operating in the UK to have any sort of insurance – but at the DCA we insist that all members have taken out insurance before they can join us. Despite this, we regularly receive many applications from uninsured cleaning service providers.
How it works:
You can apply for membership online by clicking here – you can choose from two tiers of DCA membership, designed to suit the budget and the needs of any cleaning service provider:
Associate Membership
Company name listed on public area of DCA website
Use of DCA logo
Read members forums
Telephone support for issues with tax, and health & safety issues
24-hour telephone helpline for HR & legal issues
Full suite of documents available for HR, legal, and health & safety matters
Access to DCA documents
Access to DCA preferred suppliers list & receive discounts on a wide range of purchases for both personal and business use
Option to attend DCA Members Meetings
Join as an Associate Member for £5 per month* or £50 per year**
DCA Associate Members Certificate **
Full Membership
All the benefits of Associate Membership and>
Read, reply & post in members forums
Link to your website and social media pages (Facebook, Twitter, Instagram and Linkedin).
Option to advertise recruitment opportunities on public area of DCA website
Join as an Full Member for £10 per month* or £100 per year**
DCA Full Members Certificate **
Apply for membership online by clicking here.
Once your application is finalised, we will review your details and the current copy your public liability insurance policy, along with proof that your company is registered with HMRC within 48 hours.
If everything looks fine no further action will be required. In case of any corrections needed we will contact you by email or telehpone.
As a member of the DCA there is no contract in place to tie you into membership. You are free to upgrade, downgrade, or cancel your membership at any time.
Your membership will be charged monthly or yearly, depending on the payment frequency you choose at signup and begins as soon as your membership is accepted and published.
For your added security, the DCA uses GoCardless to collect membership fees – we never hold any of your bank details.
Once your application has been finalised, GoCardless will e-mail you a confrimation of the direct debit setup. Find out more about GoCardless by clicking here.
You can cancel your GoCardless instruction at any time, for any reason.
(*A small fee of 25p will be added to each monthly payment to help cover the transaction fees we are charged when processing payments from members).