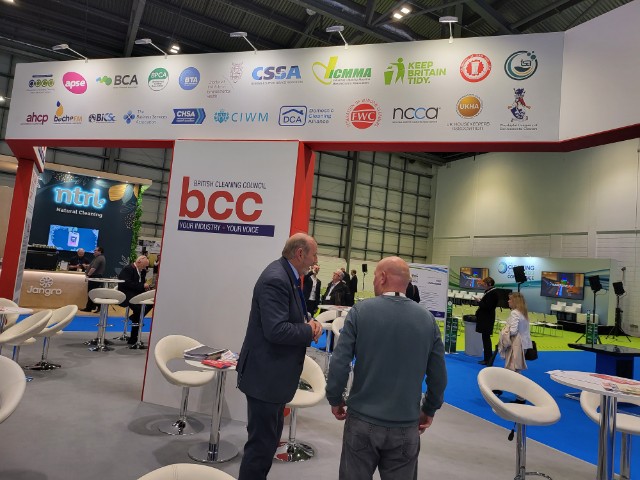 With commuters returning to the workplace hitting a post-pandemic high, expectations of a cleaner, safer, and more hygienic working environment mean the responsibilities of cleaning and hygiene professionals and facilities managers across the country have intensified. In light of this, the UK's leading event for the cleaning and hygiene industry, The Cleaning Show 2023 has announced some of the industry's leading suppliers and manufacturers that are confirmed to exhibit when the event returns to the ExCeL, London from 14-16 March 2023.
DCA will be attending the London Cleaning show between 14th – 16th March 2023. We're looking froward to see all our members there!

Greener cleaning solutions
Attendees at The Cleaning Show will be left feeling confident that the industry is striving for change – specifically when it comes to sustainability – when a multitude of exhibitors will have the opportunity to demonstrate how they are putting environmental concerns at the fore.
Demonstrating the importance of sustainability and the environment, Biovate Hygienics will promote its biologically sustainable cleaning products and demonstrate how it is working towards completely carbon neutral products, whilst EcoBag UK will showcase its Eco 360 circular economy range of refuse sacks, the Eco Wrap PE (no PVC) catering cling film and its disposable plastic aprons which have been supplied to many UK businesses to help the fight against COVID-19. All of its products are made through the sourcing of post industrial and consumer scrap plastic bound for landfill, helping to drive circularity through recycling. Finally, Soap2o will bring its latest, most innovative product range of dispensers, Eco Hand Soaps and biodegradable soap sachets, which reduce waste and embrace sustainability, all without increasing costs.
The latest in cleaning technology
Whilst sustainability is a clear priority for business owners across the industry, emerging developments in cleaning equipment technology are accelerating the work done by cleaning professionals in a timely manner, driving efficiency especially in hospitals or football stadiums where the scale of operation is much larger.
Paving the way forward with its range of advanced robotics, returning exhibitor Killis will be hosting live, interactive product demonstrations in the product theatre with its latest new cobot, The Leobot. Visitors will also be able to interact with its R3 Scrub Battery Robotic Scrubber Dryer and see the latest Robot Vacuum's in action.
Fellow exhibitor Makita will invite attendees to discover its latest range of new tools and vacuuming solutions, including the 40Vmax Brushless Backpack Vacuum Cleaner XGT which is lightweight and compact for a quiet operation. It has a 4-mode suction power selection with mode memory function, as well as an extensive run time. Attendees will be able to test Makita's latest range of reliable commercial carpet and hard-floor vacuuming solutions at the show.
Jangro will also return to exhibit its range of floor cleaning, kitchen hygiene and hand drying units, offering existing and new customers its unmissable, high-quality solutions for building maintenance, whilst P-Wave will launch its new professional 30-day plug-in air freshener for larger spaces, ourfresh-e™, which contains 3-5 times more fragrance than supermarket purchased plug-ins. Also confirmed to exhibit, Numatic will excite delegates with its NX1K scrubber dryer range which delivers leading cleaning results from its latest battery technology, as well as exhibiting its selection of effective floorcare solutions.
Technology sparks innovation
The technology on display will also highlight how advances are helping some of the sectors most important business's function. For example, Cleanlink Software Ltd will be demonstrating its award-winning software which enables any site-based business to efficiently manage their staff and resources across multiple sites. Meanwhile, enabling operators to automate workflow's, CleanManager will help visitors understand its all-in-one management software to ensure effective and simple administration.
Elsewhere, the world's leading software for security, cleaning and facilities management companies, TEAM Software, will provide cleaning, security and facilities management delegates with its market leading solution which helps manage workforces, deliver on promises to customers and run a smarter operation.
Maintaining infection control
Responding to the growing need for service providers, products and new innovations in the FM & PPE industries, this year's event will also see an increased focus on the solutions and technologies driving growth in the sector – valued to be worth over £50 billion in the UK.
For example, 2San Global Limited will showcase its development Clean Zero, the world's first 100% environmentally friendly cleaning solution which provides cleaning and disinfection to a hospital grade standard. It is proven to quickly eradicate 99% of bacteria and viruses in just two sprays, providing an effective real-world infection prevention solution. Meanwhile, Kimberly-Clark Professional is due to highlight its washroom and hygiene, PPE and wiping and cleaning solutions.
Commenting on this year's line-up, Jim Melvin, Chairman, British Cleaning Council, said: "The cleaning, hygiene and waste sector is one of the ten biggest industries in the UK, and it is important that this resonates at The Cleaning Show which brings the industry together to celebrate its crucial work.
"The Covid-19 pandemic changed so many perspectives on cleaning, PPE and importantly the roles of cleaning and hygiene operatives, so I am certain that the line-up of exhibitors will be a hit with attendees as more businesses look to improve the safety of staff in the workplace. And, as we enter the winter months where viruses have an environment to thrive, it is even more important to keep our key workers and the public safe, healthy and well."
Paul Sweeney, Event Director, The Cleaning Show, added: "It was clear to see that the last show's visitors were eager to see more solutions within the many avenues available for the cleaning industry. We want people to recognise that the cleaning industry is an exciting one to work for with a huge scope for progression, and our exhibitors help us to demonstrate that with their forward-thinking solutions provide attendees with the answers they need to respond to today's challenges. We're very excited to return to London in March to reflect on the evolution of the industry and unite once again to network, inspire, and educate our visitors on the latest advancements."